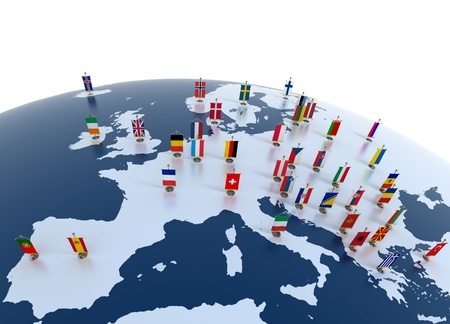 April 25, 2017
Successfully Globalize Your Business with Translation Services
With the internet and social media becoming more popular every day, the physical boundaries of our world start to seem smaller and easier to cross.
Doing business in other countries used to involve expensive phone calls or plane flights, but in our modern world, talking with colleagues over internet voice services and creating a business website and blog is easy and inexpensive.
A globalized world makes it easy for businesses of all sizes to open find clients and sell goods to customers all over the world. But all the world shrinks, the language gap still persists. By 2050, only 5% of people worldwide will speak English as a first language, and about 25% of the population speaks at least some English. To truly reach at least three-quarters of the population, you'll need to globalize your business in multiple languages.
Business News Daily interviewed translation experts about doing businesses in the global economy. These experts, and we agree with them, say that poor quality language translation will give prospective buyers in that language a less positive view of your services. This is of particular importance if you have a business in a technical or specialized field. To succeed in this type of business, you need to ensure your language sounds professional and correct in other languages.
One of the most important tasks for your business is to identify your target audience.
From there, you can identify the countries your top customers will come from, the languages they speak, and the type of positions or interests these customers have. A professional translator can then translate your business' website, blog, and other business materials using the technical language and local dialect most used by your base.
Contact us for translation service help that will increase your business' potential reach and sales around the globe.
Avoid the Productivity Trap
Betty Friedan knew what she was talking about when she said, "You can have it all, just not all at the same time." The idea that productivity equals value is an outdated and incorrect business model. It leads to exhaustion, frustration, and burnout. Mind Café defined the productivity trap as "a compulsive need to always…
Is your company providing the best Customer Experience possible?
Customer experience is crucial to every business's success. It determines the business's ability to foster customer loyalty, generate revenue, and differentiate its brand. Benefits of delivering an excellent customer experience: More customer satisfaction More customer loyalty More recommendations More positive reviews What is the customer experience?  The term, also known as CX, refers to…
Agile Project Management vs. Waterfall Project Management
What was once a means to keep software developers on task, and within the scope of their projects, Agile project methodologies have pushed the boundaries of what it means to manage a project and be part of a project. Even further, agile leadership has become a near-standard for managers across the globe. Let's take a…
We'd love to learn more about your translation and localization needs.