Localization and Translation Services
Keep your translations clear and consistent with a dedicated team and a technology stack tailored to your industry. Companies across many segments trust our adaptable solution set, transparency, responsiveness, quality, and speed of delivery.
Focus area: technical industries
Get accurate translations that take into account the nuances of your industry. Keylingo specializes in technical sector translations for automotive, manufacturing, energy, mining, telecom, construction, eCommerce, software, and hardware companies.
Your purpose-built team has practical experience and knowledge in your industry, and we curate our technology stack to augment and streamline our work. The combination of smart technology and experienced personnel gives you the most efficient, accurate translations.
Nanoleaf makes smart home products that take ordinary experiences and makes them extraordinary. They approached Keylingo to make their website multilingual and region-specific, all while keeping the brand voice consistent. And given their lean operation, the translation efforts needed to be efficient and automated whenever possible.
By combining sophisticated, mature processes and technology with attentive customer service, we localized the website for 17 countries and 12 languages.

seconds
Website load time
countries
Where Nanoleaf is sold
$
Web development savings
Technical industry translation services
Translation
Localization
Interpretation
Manuals
Audio/Visual
e-learning
Mobile Apps
Safety and Regulatory Compliance
Websites
Focus area: entertainment
Broaden your audience with culturally appropriate translation services. Keylingo specializes in translations for advertising, PR, marketing, and consumer product companies. We also have experience in television, movies, and video game translations and localizations.
You'll get accurate translations from a team experienced with the unique challenges of the entertainment sector. Our language professionals are linguistically and culturally fluent, ensuring your messages come across clearly and with the right emotion in all of your target regions
"We really appreciate how they have been able to respond quickly and meet the changing needs of our clients. They are a trusted partner for us."
Taryn Wismer - Argyle Communications
Entertainment translation services
Subtitles, Voice Overs, Dubbing
Audio mixing and treatment
Recreation
Translation
Localization
Product packaging
Websites
Collateral
Campaigns
Focus area: language access
Ensure everyone has access to vital information that is accurate and clear. Keylingo has specialized expertise in translating Individual Education Plans (or Programs), also known as (IEPs). These plans and programs are developed to ensure that a child with an identified disability who is attending an elementary or secondary educational institution receives specialized instruction and related services. Our translations help the parents of these children - who do not speak English - understand how their sons and daughters are progressing in school and their specific development plans.
We also provide language access sector translations to government and defense agencies, insurance and telemedicine companies, and hospitals.
We understand you aren't fluent in the languages you need translations for, so we go above and beyond in our partnerships, communicating at every step of the way to give you the confidence and context. The result is the highest-quality, culturally sensitive translations that you can trust.
"Nothing ever seemed to be too much trouble for Keylingo to deal with. It is so refreshing to receive such prompt and professional service."
Latha Reuben - Grand Erie District School Board
Language access translation services
IEPs
Translation and Localization
Video Remote Interpreting (VRI)
Parent/Teacher Conferences
e-Learning
On-site Training
On-site Interpretation
Over-the-Phone Interpretation (OPI)
Simultaneous and Consecutive Interpretation
Technology, Partnerships, and Certifications
The localization industry creates technology at breakneck speed. While unclear a decade ago, the build versus buy decision is answered with a resounding buy. We help make what would otherwise be confusing and complex technology decisions easy by licensing best of breed products and services and creating custom solutions. We integrate the industry's leading solutions into our ISO certified workflow, saving you time and money and we partner with the industry's leading experts so you know that Keylingo is always…in the know.
Business and Translation Management System
An all-in-one solution for LSPs, coupled with smart automations to speed business processes.
Request receipt, quote and order creation, workflow tools, vendor and accounting management.
Dynamic CAT Tool integration.
Project Management Tool and Client Portal
The most elegant and user friendly project management tool available.
Keeps both sides organized, everyone's feedback on the record, and all decisions, approvals, files, tasks, deadlines, and project communications safe and centralized.
Less email and busy-work, fewer meetings.
Translation Technology Platform
An integrated technology platform to effectively and efficiently manage content localization.
The world's best computer assisted translation (CAT) tool available.
Integrates seamlessly with machine translation, software localization, and terminology management tools.
Market Research and Consulting
Global consulting partner providing actionable insights aimed at better serving localization clients.
Exclusive market research ensuring access to the latest localization facts, figures and trends
One-on-one sessions and group conferences with international experts
Website Localization
Complete solution for all challenges in website translation.
Makes web pages multilingual instantly.
Seamlessly integrated technology to simplify website translations and content management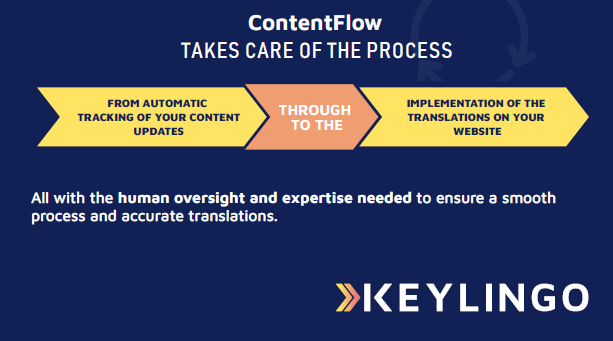 Automated Website Translations
For global growth, increased profitability, improved UX, and higher conversion rates, you should translate your website. Take a look at this document to learn how with Keylingo's ContentFlow solution, you get a set-it-and-forget-it experience for your website translations.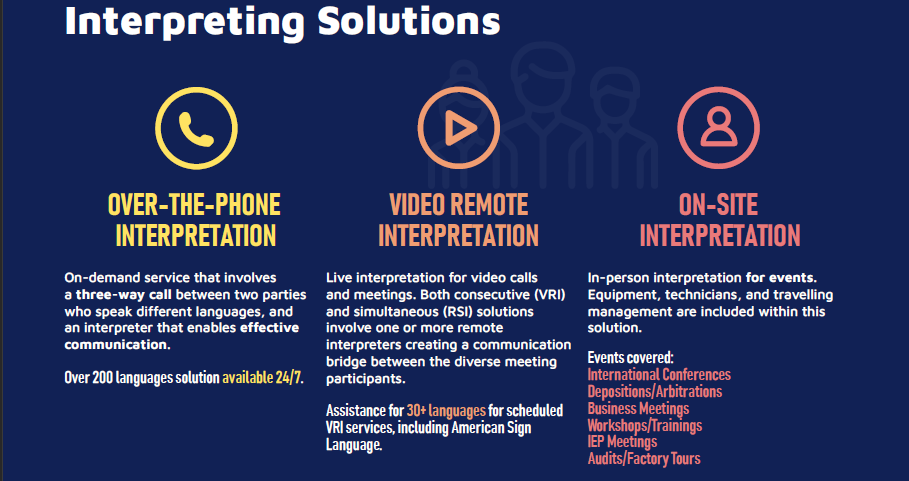 Interpreting Solutions
Break down language barriers and communicate effortlessly with Keylingo's comprehensive interpreting solutions. Download this quick guide and learn how to handle your over-the-phone, virtual remote, and onsite interpreting needs.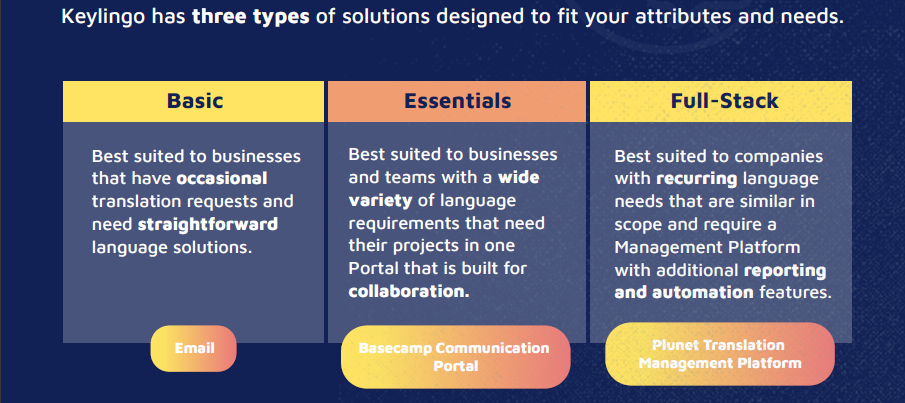 Basic, Essentials, Full-Stack
Keylingo has three types of solutions designed to fit your attributes and needs. Take a look at this 2-pager and learn which solution is ideal for your company!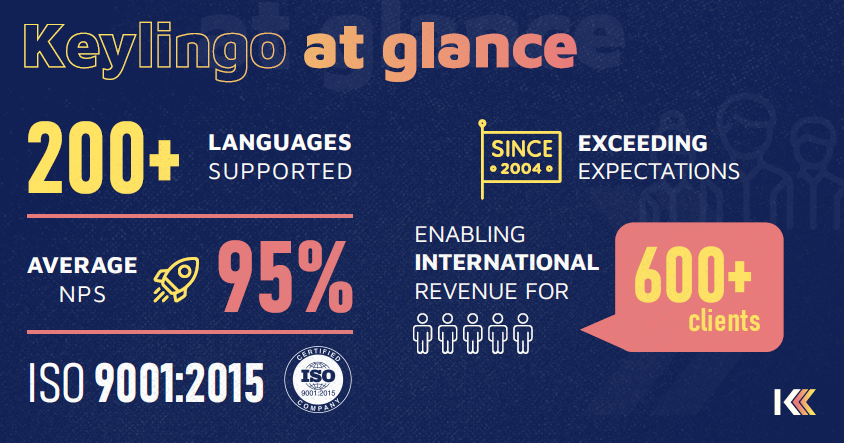 Keylingo's Overview
Keylingo is a language services provider (LSP) that combines Talented and Tenured professionals with flexible and scalable Technology solutions. Take a look at this document that summarizes everything you need you know about us!
We are professionally relentless and committed to being a nimble, adaptable, responsive partner that makes promises and keeps them. We'd love to learn more about your translation and localization needs.