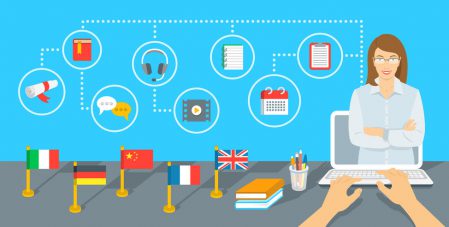 July 13, 2018
Acquire New Customers With Professional Website Translation Services
Communication is an essential part of every business and organization around the world. There are significant responsibilities and expectations of great communication between a business and its customers. As a result, there has been an increased need and demand for better access to documentation across the world, and the need for website translation services has increased.
For several industries, a well-planned and executed website translation strategy can make a huge difference in reaching all the goals that have been set around brand reputation, customer satisfaction, customer gain, etc. Some of the industries that can really benefit from a great translation strategy include the following:
Marketing agencies
Tourism companies
Healthcare companies
Law firms
We are living in a world where everything seems to be connected. The internet has become the go-to source for almost everyone when they need to find information on services and products. When people are able to easily research a topic, people are more likely to start seeking the information. If you truly want to connect with your customers, potential customers, clients, etc., you need to be able to connect with them in the right way.
Improve Your SEO Rankings
The majority of online visitors will spend time browsing websites that are written in their own language. If your website is not translated into someone's native language, the chances are high that your website will not appear in the search engine. This means you have missed a great opportunity. When your websites are properly translated into all the key languages, Search Engine Optimization will increase significantly. What comes with an increase in SEO? An increase in visitors and revenue.
Allow Customers To Feel Comfortable
If you want your website visitors to feel comfortable making a purchase on your website, you should make sure there are no errors or anything that will give a visitor any doubt that they should hand over their personal information. You will want to avoid using materials that will lead to poor translation because this can completely damage your business or organization's reputation and brand. It is always a wise choice to use a professional website translation service.
Are you interested in learning more about website translation services? Please do not hesitate to contact us today.
Avoid the Productivity Trap
Betty Friedan knew what she was talking about when she said, "You can have it all, just not all at the same time." The idea that productivity equals value is an outdated and incorrect business model. It leads to exhaustion, frustration, and burnout. Mind Café defined the productivity trap as "a compulsive need to always…
Is your company providing the best Customer Experience possible?
Customer experience is crucial to every business's success. It determines the business's ability to foster customer loyalty, generate revenue, and differentiate its brand. Benefits of delivering an excellent customer experience: More customer satisfaction More customer loyalty More recommendations More positive reviews What is the customer experience?  The term, also known as CX, refers to…
Agile Project Management vs. Waterfall Project Management
What was once a means to keep software developers on task, and within the scope of their projects, Agile project methodologies have pushed the boundaries of what it means to manage a project and be part of a project. Even further, agile leadership has become a near-standard for managers across the globe. Let's take a…
We'd love to learn more about your translation and localization needs.